Pixelyz is an unique tool dedicated to retro aesthetic pixel art and animation. With an intuitive interface, a non destructive workflow makes pixel art easier than ever.
With Pixelyz do more in less time!
Create, modify, transform, the vector and your work as you want. Pixelyz's non destructive workflow allows you to create your sprite the way you want.
Pixelyz is faster than traditional pixel art,
​
Combine vector graphics with digital painting to create stunning characters and background.
Supercharge your pixel art with PIXELYZ
Pixelyz will simplify the pixel art animation process Once you have completed your drawing, you can start animating your sprite right away.
With the flexibility of the toolset allow modification on the fly, for fast animation.
​
Power up your animation with PIXELYZ
Pixelyz is perfect to create illustration or animated film in a pixel art style. With our layer management and the intuitive vector and animation tools, create beautiful illustration for a fraction of time.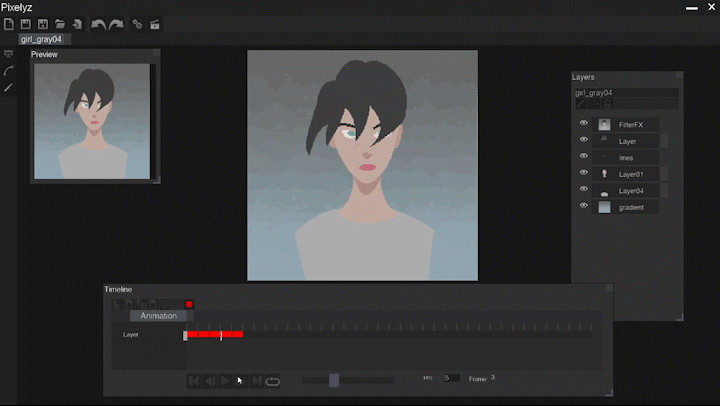 Pixelyz is a complete toolset but with only two quick menu you can access the needed functions. Create beautiful pixel art with our suite of tools.
Our toolset will simplifiy your work and allow you to focus on your art
​
Gradient
Fill your vector with gradient fill.
Line
Create line with our curve tool.
Drawing
Use rasterised painting to draw. Combine vector layer and painting layer to your art.
Gradient
Fill your vector with gradient fill.
Pixelyz is easy to learn. You only need four key to do most of your work.
We use the pie menu to speed up the access to function.
the quick action menu, where you'll spend most of your time, is contextual, so it only shows the tool available when you need them.
Never break the creative flow
With a lean interface, a shallow learning curve, Pixelyz will enable you to focus on your art and free your creativity.
No complex UI or a lots of menu to learn.
With Pixelyz, everything is at reach, from start to end.
Build for Game and Animation
Pixel art and animation had never been so easy ! Create your pixel art from concept to final animation.
Express your creativity with the simple but powerful set of tool
Import your animation in your foavorite game engine
​It is production oriented and can be use to create cinematic and animated movie.
Render as an image sequence and import in your favorite NLE ( premiere, final cut) for editing
Export directly as gif for Social media.
You can render your image into the .GIf format and use it on your website or blog directly or post onto a social media plateform
Piixelyz allow you to downscale and compress using quantization or the windows gif encoder. ​
Pick the level of fidelity that suits your needs